Christmas is one of the most exciting seasons for Christians that working moms look forward to. It brings the family together as well as gives you some needed time off from work.
However, Christmas can be boring if you don't plan for it. A good Christmas plan should be one that includes lots of activities and fun things that you can do either with your partner or the whole family with your kids.
Below are exciting and fun activities for Christmas day with your family and husband.
Secret on Top Fun Things to do with Husband/Family on Christmas Day 2023
1. Go on an Surprise Christmas Date with Husband
The idea of a date for a couple can get magical when it happens during the holidays. While it is rare or unusual for a couple to plan a date on Christmas day, it is quite special. Not many people would consider Christmas day an ideal day for dates but it's just perfect for one.
If you and your husband have not gone on dates for a while, this Christmas 2023 could be just the perfect day for you to do so. Just pick a nice destination and spoil each other with love.
Make it unusual by going to a new joint or by introducing a new thing to the date. The dates fit the adult-only Christmas ideas because it excludes the kids.
2. Play Fun Family Christmas Games
If you are wondering what you can do on Christmas while at home then this is it.The day can be quite long, especially if you are spending Christmas indoors.
But whenever kids are around, games are the go-to options for fun. A more fun and exciting option would be to play your favorite games during this time. It is indeed a worthy Christmas activity for kids to try out.
Stock up or add more games to your collection in preparation for the Christmas season.
3. Go for Drinks with your Partner
The trick of a good drink is not spoilt just because it is Christmas day. Christmas is a holiday and you should have fun as you celebrate it. Drinking with your partner or husband is ideal for Christmas day 2023 because its fun.
Do the unusual thing and go try out a new drink you have never tried before. Pick a new spot you would love to explore and go out for drinks.
Alternatively, you can still go to your local favorite joint and meet up with your friends for a fun Christmas time enjoying your best drinks. It is also a good adult-only thing to do on Christmas.
4. Spend Christmas Visiting the Poor
Many people feel generous around Christmas time. As such it is easy to find people giving out stuff on Christmas day . You can do the same as one of the things to do this Christmas 2023.
While it may look like an unusual thing to do on Christmas day, take your family away from home to see the less fortunate. Just do a visit to your neighbor and donate what you can to these families.
It will go a long way and also make your Christmas fulfilling. It is also a fun Christmas activity because you get to meet new people who may inspire you differently.
5. Host Guests for Lunch
Christmas can also be a period to check up on long-lost friends. Many people only want to spend Christmas time with family alone but you can do the unusual thing and invite friends that are as close as your family.
A year can be quite long and if your friends are only available on Christmas, meeting up with them should be on your list of things to do on Christmas 2023.
If you rather not go out, you and your husband or partner can host your friends for Christmas at your home. What you need to do is ensure you invite your friends and your husband can invite his.
By doing so the time won't be too boring for either of you. It is one of the ways or things you can do at home on Christmas with your entire family.
6. Cook Christmas Lunch with Husband
Having lunch with one of your loved ones is indeed a good way to spend your Christmas 2023 at home. if you do not want to involve your kids in your plan but want something to do for adults only on Christmas, then try out making lunch together.
A good thing about the Christmas season is that it avails you time that you otherwise do not have once the holidays are over. Therefore one thing you can do on Christmas is to ensure you have a good meal. Many people are used to ordering out that they forget the magic of a nice homemade meal.
Therefore consider the option of teaming up with your husband to make lunch for Christmas. It can be quite fun when you do it together to make the meal. Ensure that you are cooking your favorite and you will find this to be your best Christmas experience.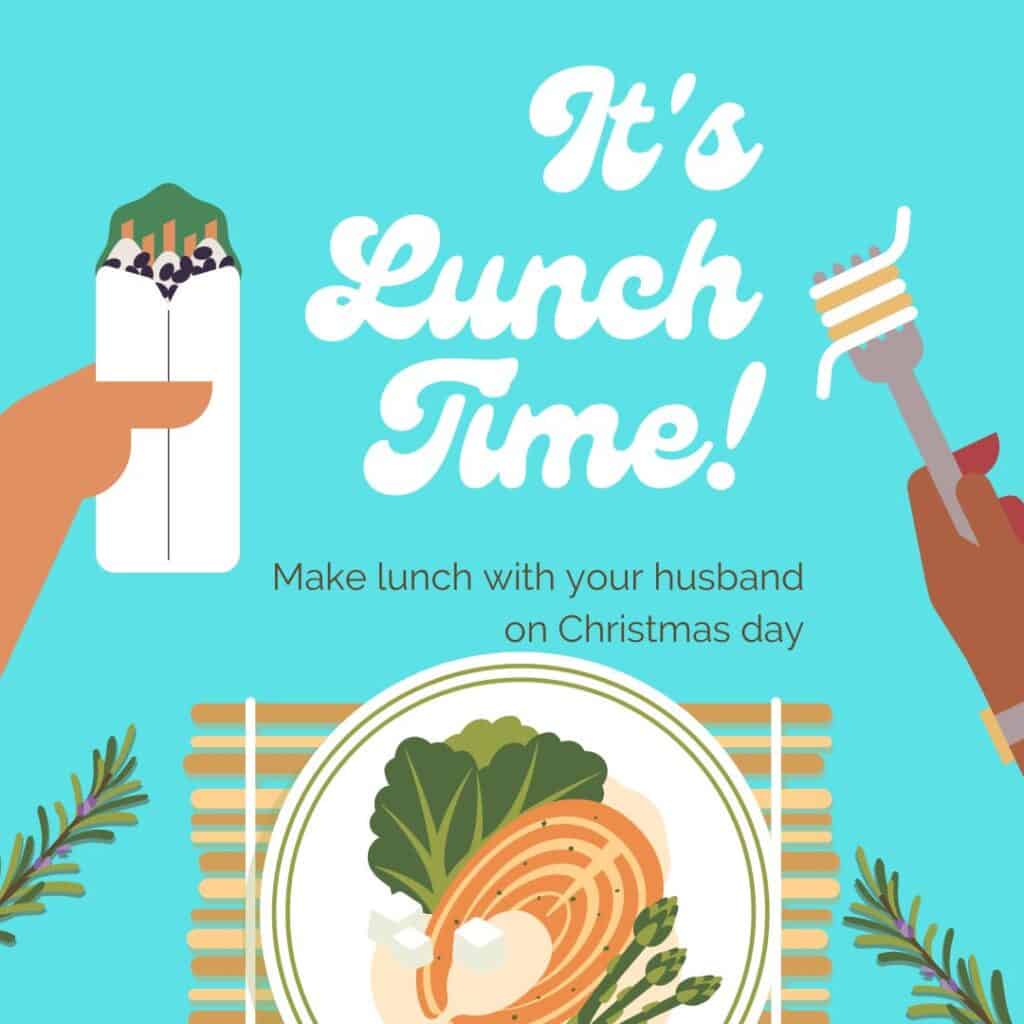 7. Spend Christmas Outdoors with Nature  
If you are not an indoor person, don't get stuck indoors just because it is Christmas. If you love the outdoors and nature, get out there and walk. It can be exciting to use this time to explore new tracks or places that you never visited before.
If you are a camping person, camping on Christmas is a great fun thing to do , probably with your husband. Whatever outdoor activity that you and your husband want to do, go for it and you will find that it makes your Christmas exciting.
8. Share/Exchange Christmas Gifts with Family
Gifting each other in the family is a Christmas tradition for many families. If you have not been doing it, it is a new thing you can try out with your family this Christmas 2023. Each of your family should gift every other member of the family.
It becomes exciting when you are discovering what your family members have gifted you. Try making this your family's tradition starting this Christmas 2023 as one of the best things to do with your family on Christmas.
Make this an unusual event by gifting each other the least expected or the most unusual Christmas gifts. If you are going to spend your Christmas at home, then you better make it worthwhile.
Read: Christmas Gift Ideas for your Nanny
9. Setting up the Christmas Tree
Setting up the Christmas tree can be quite a chore but when you do it with your family, it is fun and unifying. You do not necessarily need to do this on Christmas but you can do it with your family and kids a few days before.
Just ensure that everyone is involved and participating to make it fun for everyone. You may also make it a tradition as one of the great ways to spend your Christ with your husband, kids, or the entire family.
10. Declutter Family Stuff and Donate on Christmas
Christmas comes towards the end of the year which is a perfect time to declutter. It is perfect for you, your kids, your husband, and your whole family to let some things go so that you can create space for new and better things.
Decluttering can entail stuff from the kitchen, the living room, stuff for the kids, and clothes among others.
A fulfilling way to spend your Christmas with the family would entail you donating these stuff to the less fortunate after you have decluttered. Christmas time should bring a new beginning and a good way to spend Christmas at home getting rid of old stuff to create room for new stuff.
Related Articles
How to Spend Christmas with your Family