Christmas is special and the right time to gift your loved ones and those that matter to you such as the nanny. Nannies do a great job of caring for our children. They are especially indispensable to most working moms as you have to rely on their services for childcare.
As such they end being part of our families, more so those who that have worked with you for long enough. Therefore we need to appreciate them as we would appreciate family by gifting them on Christmas. It has become customary to gift or give the nanny a bonus for Christmas.
Read: Making Christmas Special for your Family
However getting the perfect gift that is both unique and cheap is hard. You need a christmas gift that the nanny will love and appreciate.
Below find a list of 11 simple but perfect & unique gift ideas that your nanny will appreciate this Christmas 2023.
3 Good Reasons to Gift your Nanny this Christmas
What to Gift Your Nanny This Christmas
Tips for Gifting Your Nanny This Christmas All Working Moms Need
3 Revealed Good Reasons you should Gift your Nanny this Christmas
1. Christmas Nanny Gifts make your Nanny feel Appreciated
Appreciation and gratitude are some of the main reasons we give our nannies gifts on Christmas. The gifting gesture shows that you appreciate your nanny and the work they do for you and your family. It is hence important that you let your nanny know you appreciate them through a Christmas gift.
2. You Motivate your Nanny when you Gift
Motivation is one of the main benefit of giving your nanny a gift on Christmas day. The Christmas token motivates you nanny to work better as the gift or the bonus acts as an incentive. As such you should make nanny gifts a norm for every Christmas.
3. Christmas Gifts Enhances your Relationship with Nanny
Gifting your nanny during Christmas helps to establish and enhance the relationship between you and your nanny which is crucial in effective childcare. It is one the reasons you should consider a Christmas gift for your nanny this Christmas 2023.
Read: How to Keep your Nanny for Long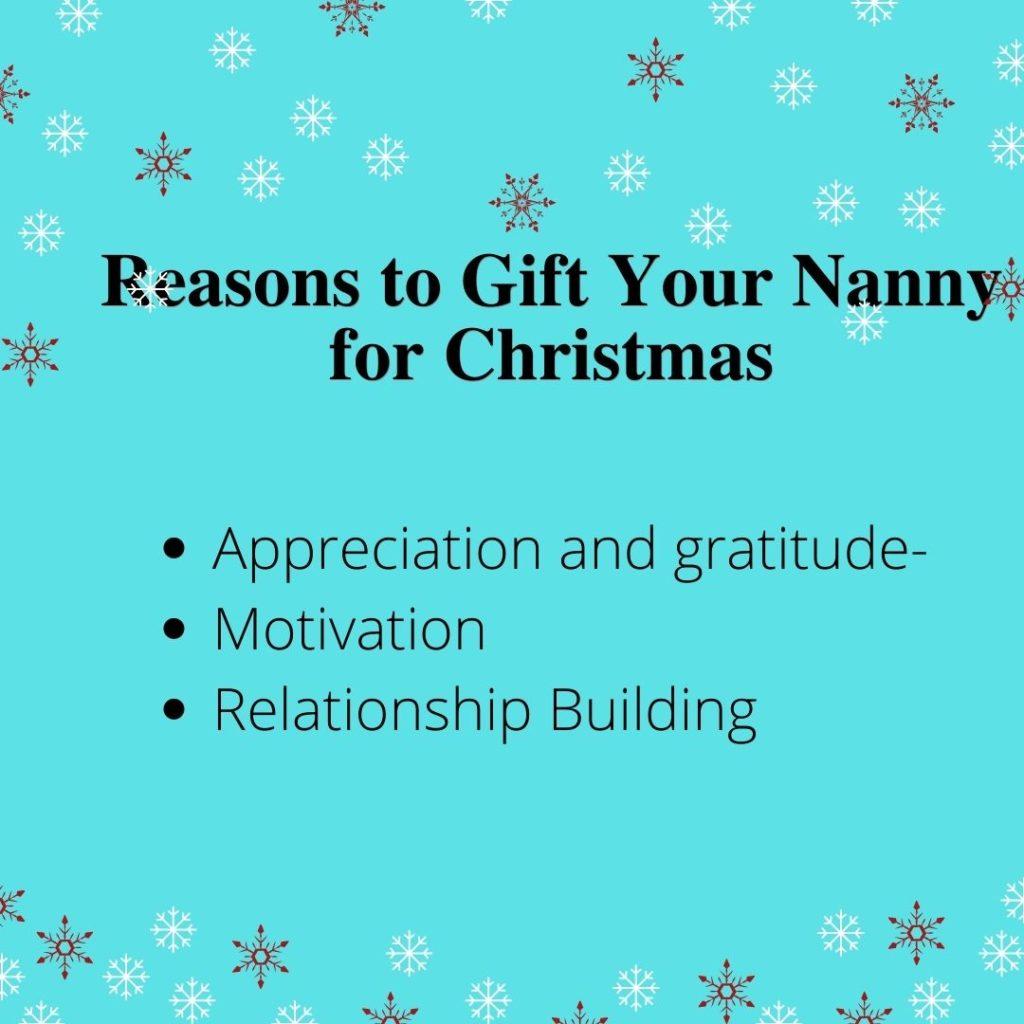 Simple, Amazing & Perfect Gifts Ideas of What to Gift Your Nanny this Christmas 2023
Finding the most unique and perfect gift for your nanny is very challenging. What gift you choose for your nanny should be most practical and useful thing they will received.
It is not a perfect gift if your nanny finds no use for the gift that you have chosen for her. You therefore need to put much thoughts into the gift that you choose for your nanny this Christmas.
In this list, i have included a variety of cash gifts/bonuses, and non-cash gifts that you can use to show your gratitude and appreciation for your nanny this Christmas.
1. A Cash Gift/Bonus for Nanny is Perfect as Christmas Gift
A bonus is some extra cash that you give above and beyond normal pay for your nanny. It is an appreciation of service and a reward for their exemplary performance and work in childcare.
Some families find it practical to give their nanny a Christmas bonus instead of a gift as they can make better use of the cash that way. Also, some families still go out of their way to give their nanny a bonus and a gift.
How Much To Give Your Nanny as a Christmas Bonus
It is quite a dilemma for working moms on how much to give the nanny as Christmas bonus. But the amount that you give your nanny as a bonus depends on you. Consider your unique childcare circumstances and your financial capability, while coming up with the figure.
However, a baseline, is a week's total net pay, which is the most common amount given as a bonus. Of course, you can give more than this, and certainly, you can give less depending on your financial situation. 
2. Gift Cards are Simple Perfect Nanny Christmas Gift
A gift card to their favorite store, restaurant, spa, etc. will be appreciated by the nanny.
3. Photos are Perfect as Christmas Nanny Gift Ideas
A photo book, a framed photo of the nanny with the kids is vert exciting.
4. Crafts makes Unique Perfect Nanny Gift for 2023 Christmas
Handmade crafts, cards, thank you notes, etc. are very unique gifts that your nanny will love.
5. Customized Nanny Gifts are Perfect for Christmas
A personalized travel tea/coffee mug, T-shirt, blankets, socks, sweaters etc will make very unique gifts for your nanny this year.
6. Accessories are Simple Christmas 2023 for your Nanny
A watch, ornaments, car accessories, a purse/bag that fits the nanny lifestyle and they will appreciate them as a Christmas gift.
7. Self-care Products for Nanny are Perfect
Lotions, organic soaps, scrubs, bath bombs, hand/body cream candles etc are all amazing fits for your nanny this christmas
8. Entertainment Items can Make Good Christmas Gifts
Gift your nanny books, movie night gift package, date night box, champagne etc.
9. You can Gift your Nanny Home Items for Christmas
You can Gift your Nanny Home Items for Christmas 2023
10. House Plants, Teapot, Cocktail kit  etc. can be Perfect Christmas Gifts for Nannies
Food and Drinks such as homemade cookies, juice, candy etc. are simple but perfect Christmas gifts for your nanny this year 2023
11. A paid day off, paid holidays, etc. can be good Christmas gifts for nannies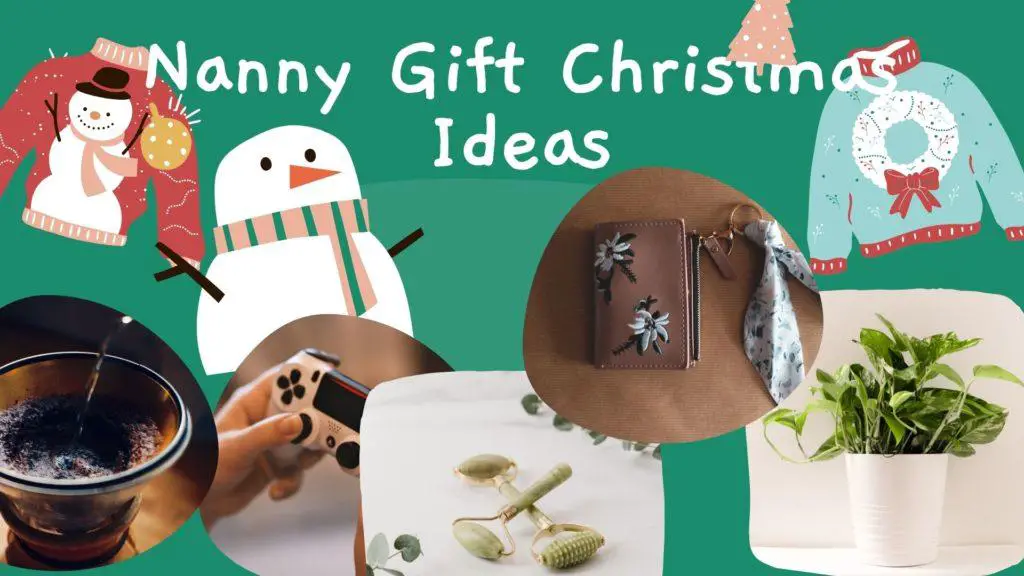 When to Give the Nanny Christmas Gift/Bonus
Christmas gift and/or bonus is meant for Christmas, hence it is the perfect time for giving out the Christmas gift. The timing therefore should allow for its use during Christmas time.
Therefore the time to give out the Christmas gift/bonus to the nanny may be between two weeks before Christmas to last day before Christmas.
Revealed Tips & Rules important to Follow on Nanny Gifting for Christmas
1. Gifting or giving a Christmas bonus to your nanny is totally optional, not mandatory.
2. Your nanny should not demand for a Christmas gift/bonus. If she does, take that as a red flag.
3. It is the thought that matters- not the amount. If your finances do not allow for a huge bonus, a small token is enough to communicate your appreciation to your nanny
4. While deciding on the amount of the bonus, consider factors such as how long your nanny has been with you, how well she gets along with the kids and the care they deliver among other performance indicators.
5. The average time for bonuses should be after at least 6 months of employment. If your nanny has not been with you long enough, do not feel pressured into giving them a bonus. Consider a gift instead.
6. To be clear on the expectations, include a performance/retention bonus in the contract.
7. Make the gift the most thoughtful and practical gift your nanny will ever receive. Try to remember if she has mentioned something she desperately needs. Also you can always ask as it helps avoid buying something they will never use. 
Related Articles
Christmas Ideas for the Workplace
Unusual Things to do with your Family for Christmas
Reasons why your Nanny are Leaving too Soon
How to Set a Professional Work Relationship with your Nanny
How to Build Trust with your Nanny
Graduation Gifts Ideas for Kids